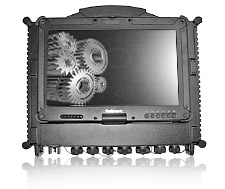 ...Unique Rugged Convertible Notebook Based on the Intel® i7 microprocessor with an Integrated Extension Unit for PCI Express slot and all I/O on MIL connectors.
Lucius & Baer has developed and now produces a Rugged Convertible Notebook LB-RCN-1320 with an Integrated Extension Unit, which brings improved withstanding against environmental impacts on the LB-RCN-1320 besides an additional flexibility on the usage of electronic interfaces.
Advantages of Integrated Extension Unit of LB-RCN-1320
Due to consequent application of connectors dedicated designed for extreme environmental conditions, all interfaces, standard as well as customer specific, can be used now under any circumstances and conditions. Opposed to typical outdoor computer systems (e.g. IP protection may be violated due to open flaps when attaching cabling to interfaces) the LB-RCN-1320 with the Integrated Extension Unit will keep alive all requirements, even with external data cables being attached.
This includes also the usage of the SD and the PCI Express Card slot. The Extension Unit provides the customer application enough space to place the required cabling inside the Extension Unit and to bring the data connection to the rear side connectors. The design of the rear box connector plate was made in terms of easy access to cabling and most possible flexibility, when it comes down to special customer requirements.
The Lucius & Baer Extension Unit also provides an extended input voltage range. While typical laptops require a fixed voltage, the LB-RCN-1320 Extension Unit provides a wide range from 18V up to 36V in the standard version. Other DC ranges can be easily integrated on request. The Extension Unit integrated DC/DC converter has no impact on the battery functionality of the LB-RCN-1320. The LB-RCN-1320 can be used as always with the integrated battery pack without the loss of any integrated or additional functions given by the Extension Unit.
In the standard version LB-RCN-1320 with the Lucius & Baer Integrated Extension Unit provides the following data interfaces:
LB-RTC 1015
Extended Power In from 18V up to 36V
2 USB 2.0 board with 500 mA
3 USB 2.0 ports for low power or self-powered USB devices with 100 mA
1x RS 422 interface
1x RS 232 interface
2x Gigabit Ethernet Interfaces
1x Audio Out (Stereo) and 1x MIC Input
1x VGA interface for external display
All connectors are IP65 approved and MIL STD 38999 compliant. In addition, all connectors are also RoHS compliant due to the surrender on Cadmium based surface treatments.
Other configurations are easily to adopt just by replacing the rearbox connector plate.
The Extension Unit is equipped with 1/4" and 3/8" stainless steel made threading's on the bottom side of the system, so a simple and flexible usage of standard or custom tripods as well as GorillaPods (tm) is possible.
As an option, the Extension Unit can be equipped with an additional sun shield, dedicated for the tablet mode of the LB-RCN-1320. While the sun shield can be removed easily and toollessly, it can be also used as an additional protection of the LB-RCN-1320 when it is not in use.
For more information please don't hesitate to contact our specialists: Tel.: +49 8171-970-0, or send us email: info@lucius-baer.de , or visit our Webpage: lucius-baer.com
Es genügt nicht alleine herausragende Produkte zu entwickeln, man muss sie auch nach außen kommunizieren. Vor diesem Hintergrund soll der neue Webauftritt unsere Stärken und Kompetenzen einfach vermitteln. Produkte fungieren als Botschafter unseres Unternehmens und transportieren das PURUS Know-how, die Erfahrung und den Arzberger Pioniergeist direkt an den Besucher.
Klicken Sie sich einfach durch unsere aktualisiertes Produktspektrum oder erfahren Sie alles über unser Unternehmen, unsere Einstellungen und unsere Geschichte. Wir wünschen Ihnen viel Spass beim Navigieren!