Features
1000 nits QuadraClear™ Sunlight Readable Display with Multi-touch Screen
15.6" TFT LCD FHD (1920 x 1080)
MIL-STD-810G and IP65 Certified
Optional NVIDIA® GeForce® GT330M 512MB Discrete Graphic Controller
Multimedia Bay Feature Maximizes Flexibility and Customized Applications
Overview
Getac X500 is the first rugged and fully equipped standard military grade commercially available notebook. For the first time, a customized military grade I/O interface is configured into standard specifications, enabling an I/O interface that fully complies with military standards.
This capability greatly reduces the long period of time usually required by complex customization and realizes the feasibility of configuration of customized military equipment into standard specifications.
Combined with Intel® Core™ i5-520M or Intel® Core™ i7-620M processors and NVIDIA® GeForce® GT330M 512MB graphic controller, Getac X500 demonstrates excellent processing performance and is capable of compiling the intelligence information acquired from various information devices.
In addition, Getac X500 can effectively support special military software and perform quick conversions of 2D and 3D images and precise positioning of the locations of the enemy and own forces, making it the rugged notebook with the best processing performance among others of the same grade on the market.
Reporting MIL-STD-810G and IP65 certified ratings issued by the military, ninety percent of the Getac X500 is made with metal, rubber and plastic materials, and passes the fungus test with excellent anti-fungus effect.
With the optional expansion unit and the built-in PCI & PCIe interface, one can conduct equipment expansion and matching for maintenance according to the actual situation of time and environment, fully satisfying the demand of military customization.
Specifications
Operating System
Genuine Windows® 7 Professional
Mobile Computing Platform
Intel® Core i7-4600M 2.9GHz Processor with Intel Turbo Boost Technology up to 3.6GHz
4MB L3 Intel Smart Cache
Intel vPro Technology™
Intel Core i5-4300M 2.6GHz Processor with Intel Turbo Boost Technology up to 3.3 GHz
3MB L3 Intel Smart Cache
Intel vPro Technology™
VGA Controller
Intel HD Graphics 4600
Optional NVIDIA® GeForce® GT 745M with 2GB VRAM
Display
15.6" Full HD (1920x1080) 800 NITs Sunlight-Readable LED Display
Optional Multi-Touch
Storage & Memory
8GB DDR3 Expandable to 16GB 1
SATA 500GB HDD2
Optional SATA 80GB/160GB SSD2
Keyboard
Waterproof Backlit Mechanical Membrane Keyboard
Optional Waterproof Backlit Rubber Keyboard
Pointing Device
Capacitive Touchpad
Pressure Sensitive Touchscreen
Glide Touchpad with Scroll Bar
Expansion Slots
PCMCIA Type II
Express Card
Smart Card
SD card reader
Multimedia Bay
Super-Multi-DVD
Optional 2nd Battery
Optional 2nd 500GB HDD; 128GB or 256GB SSD
IO Interface
DC in x 1
USB 3.0 (9-pin) x 2
USB 2.0 (4-pin) x 1
USB 2.0/eSATA Combo x 1
Docking Connector x 1
Serial Port (RS-232) x 2
LAN (RJ45) x 2
External VGA (15-pin; D-sub) x 1
Audio Output (Mini-jack) x 1
Microphone (Mini-jack) x 1
HDMI x 1
IEEE 1394A x 1
Optional RF Antenna Pass-Through for WWAN, WLAN and GPS x 1
Communication Interface
10/100/1000 Base-T Ethernet
Intel Dual Band Wireless-AC 7260; 802.11ac
Bluetooth (v4.0 class 1)
Optional SiRFstarIV™ GPS (with Internal Antenna)
Software
Getac Utility
Adobe® Reader®
Security Features
Fingerprint Scanner
TPM 1.2
Kensington Lock
Power
AC Adapter (90W, 100-240V, 50/60Hz)
Li-Ion Smart Battery (8700mAh)
Optional Media Bay 2nd Li-Ion Battery (8700mAh)
Rugged Features
Full Magnesium Alloy Case
Shock-Protected Removable HDD
Vibration & Drop Resistant
Ultra Rugged
MIL-STD 810G and IP65 certified
MIL-STD 461F certified
Optional ANSI/ISA 12.12.01
Environmental Specifications
Operating Temperature: -4ºF to 131ºF / -20ºC to 55ºC
Storage Temperature: -40ºF to 160ºF / -40ºC to 71ºC)
Humidity: 95% RH, Non-Condensing
Accessoires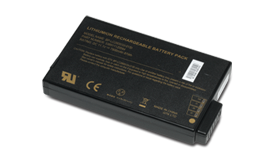 Battery
Main battery.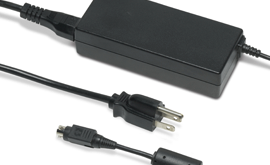 Power Adapter
AC adapter with power cord.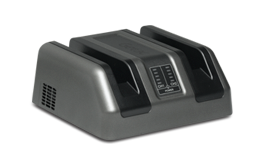 Battery Charger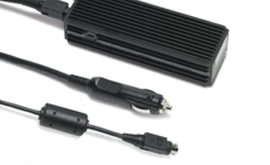 Vehicle Adapter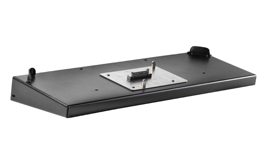 Office Dock
X500 office dock.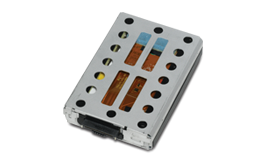 Hard Disc Drive
320GB HDD with heater and canister.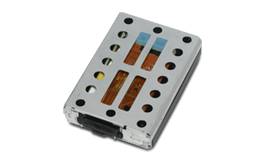 Solid State Drive
160GB SSD with canister.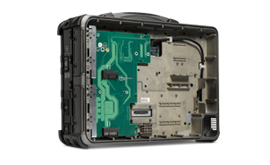 Expansion Chassis
PCI expansion chassis.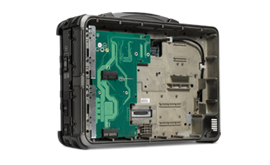 Expansion Chassis
PCI express cards expansion chassis.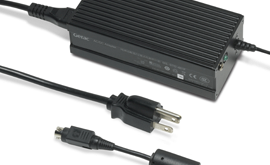 MIL-STD-461F Power Supply
Power supply for MIL-STD-461F.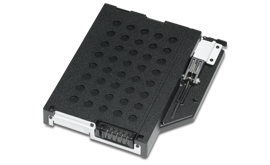 Media Bay Battery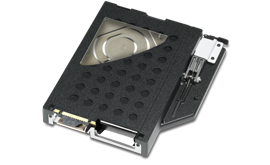 Media Bay Hard Disk Drive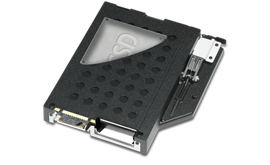 Media Bay Solid State Drive
160GB solid state drive for media bay.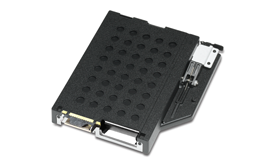 Super-Multi DVD
Media bay Super-Multi DVD drive.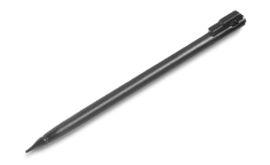 Stylus
Spare stylus with tether cable.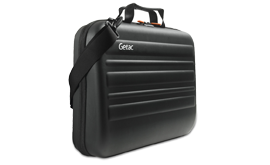 Attache Case
X500 attache case.