Features
WLAN for communication, multiple antenna choices
Integrated Mobile Broadband
Freezer ready for temperatures below -30 degrees Celsius
UPS to improve operation with unstable power
Improved ability to withstand vibrations
Bluetooth to handle scanners and other input devices
Optional enhanced Cable Sealing
Overview
The LB-RVC 1214 is specially designed to fit the needs of the toughest industries. Use it in production, mount it on a forklift, put it in a freezer, abuse it in almost any way you like - you will still have a companion executing every task in the world of distributed data that you desire year after year.
Specifications
RAM
1024MB DDR2 (optional 2048MB)
Boot media
4, 8 or 16GB Compact Flash
Display
12,1" SVGA 450NIT (optional XGA)
Operating system
Windows XP Pro or Windows 7
Power supply
18-72V DC isolated power supply
or 9-36V DC unisolated
RF Options
WLAN 802.11n and Bluetooth 2.0 +EDR, Class 1
Optional WWAN and GPS
Graphics
Up to 224MB (uses RAM-memory)
UPS
Uninterruptible power supply >10minutes
Ports
4 USB type A 2.0
1 Ethernet 10/100-TP, RJ45
RS232-port with ext 12V
External antennas for WWAN and GPS
Sealing level
Non-operating -35°C to 75°C, Operating -30°C to 55°C
Vibration
10 - 95% RH, non-condensing, Water & Dust proof, IP65
Shock
5 - 500 Hz/4.5 g RMS 3 hours X Y Z
Accessoires

JLT:Care Service Level Agreement
Predictable cost for maintenance and repairs.

Power AC/DC Molex with Cable
Molex connextor that fits the Docking stations and the fixed-mount computers.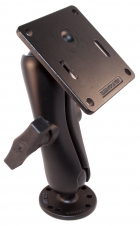 RAM® Mount
VESA mounting with different lenghts and sizes. Fits all JLT Computers
Screen Protector
Extend your touchscreens lifetime with Screen Protectors from JLT

Combined GSM/3G and GPS antenna
Designed for discreet mounting on glass inside the vehicle

100942 - jLink 3G/GPS external modem
Rugged modem for reliable 3G and GPS connectivity