Overview
The LB-RTC 0816 is the first computer in a new series designed to be used fixed-mounted in environments with a lot of vibrations, such as vehicles or process industry, but still be portabel for flexibility.
We call this Flexible Fixed! As durable as a fixed-mount computer but with the flexibility like a handheld device.
The LB-RTC 0816 comes with the powerful Atom N270 processor at 1.6GHz, 2GB internal memory and runs HDD or SSD.
A new improved vehicle dock is accompanying the jFlex, to further extend the life time expectancy for a device in this class.
Specifications
Boot media
HD 80GB automotive, SSD 16, 32 or 64GB
Display
8.4" SVGA (800x600), 450 NIT
Touch screen
Resistive 4-wire Touch Screen
Operating system
Windows Embedded standard, Windows 7 Pro, Windows XP Pro
Interface
1 external USB 2.0, DC-input, Docking connector, 1 RJ45 Ethernet
Power supply
9–21 VDC, Battery 44Wh, 7.3V
RF options
WLAN 802.11n and Bluetooth 2.0 EDR. class 1
Accessories
Mounting solutions, Rugged keyboards, Cables and adaptors, GPS, 3G-modems
Vehicle Dock
3x USB ports, 2x RS232, 9-36 VDC
Environment
Temperature: Non-operating -30°C to 70°C, Operating -20°C to 50°C
Sealing level: 10 - 95% RH, non-condensing, Water & Dust proof, IP65
Vibration: 5 - 500 Hz/4.5 g RMS 3 hours X Y Z (non-rotating disks)
Shock: 30 g for 11 ms (non-rotating disks)
Drop test: 3 feet on concrete
Housing: Aluminium, powder coated
Regulatory approvals
Safety: UL: UL94, Class VO
FCC: Part 15, Subpart B, Class B
International Safety: CE
EMC Susceptibility: ISO7637-2, EN55024, EN61000-6-2
EMC Emissions: EN55022: EN 301 489
Accessoires

Vehicle dock

Power AC/DC Molex with Cable

Extra Battery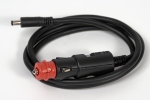 Cable Power Lighter/DC-plug
Sacci Hook

Passive Dock